Veteran's Day!
Friday, November 11th, is Veteran's Day.  Washington Business Group remembers, thanks, and proudly salutes all those that have served in the United States Armed Forces.
Check out the Cherry Blossoms!
Pretty soon, D.C.'s Tidal Basin will transform into a blossom of pink petals. The cherry blossom trees are set to reach peak bloom between April 8 to April 12. Spend time to experience the beauty of the National Cherry Blossom Festival.
Happy Cherry Blossom Fesitval!
Happy President's Day!
Presidents' Day
Monday, February 19 is a holiday in the United States: Presidents Day Or is it Presidents' Day?
It's both. The holiday actually celebrates the lives of George Washington and Abraham Lincoln, the 1st and the 16th president of the US, respectively. Because the holiday celebrates two presidents, Presidents' Day (with an s and an apostrophe) is correct.
Happy Presidents Day 2018!
Happy Valentine's Day!
Valentine's Day 2018, what a great reason for letting you know how much Washington Business Group appreciates you. We hope you celebrate it by doing all the things you love.
Holiday Wishes
Washington Business Group wishes you a Happy Holiday season filled with joy and laughter and a peaceful and prosperous New Year 2018.
Memorial Day Thank You
To those who courageously gave their lives...
And those who bravely fight today...
THANK YOU
From,
Washington Business Group
Celebrating Washington Business Group's 18th Anniversary!
Washington Business Group, Inc. is celebrating its 18th anniversary on May 5, 2017 and we are so proud to share this prestigious moment with you. Our clients are the reason for our success, in 2016 over 83% of our business came from returning clients and referrals which is a testament in itself. Washington Business Group, Inc. is a Socially Conscious enterprise in Washington, DC.  Since 1999, WBG has provided our clients with comprehensive program, project, construction management and real estate development services; we manage every aspect from concept to occupancy.  We are thrilled and honored to have helped federal, local, and quasi-governments, non-profit organizations, premier corporations, and small to mid-size businesses.  Dinesh Sharma, Founder & President says, "It has been a dream come true to see such fantastic growth in the company that I started 18 years ago. I can't thank my team enough for the job they do every day."
Enjoy the Cherry Blossoms!
Cherry Blossoms are blooming in Washington, D.C. to remind Washington Business Group that Spring is here! The 2017 National Cherry Blossom Festival is from March 16th to April 15th. Be sure to enjoy beautiful Cherry Blossoms festival in Washington, DC!
Happy Valentine's Day!
Valentine's Day, what a great day to let you know how much Washington Business Group appreciates you. We couldn't let this day pass by without thanking you for being such a great customer!
With love,
Washington Business Group
Happy Martin Luther King Jr. Day!
Dr. Martin Luther King, Jr.'s Birthday Day on January 16th is celebrated on the third Monday in January each year. Washington Business Group, is a Socially Conscious Enterprise located on Martin Luther King Jr. Avenue in Ward 8 of the District of Columbia. We are celebrating Dr. King's legacy and his commitment to do the right thing, by being "The Right People at the Right Time with the Right Services®"
Happy New Year from Washington Business Group
Let us celebrate this exciting and colorful New Year with a great big smile. Wishing you and your family a year full of happiness, prosperity, and good health!
Sincerely,
Your Friends at Washington Business Group
Warm Holiday Wishes from Washington Business Group
It might be getting colder outside, but here at Washington Business Group we are sending you and your family warm and happy wishes for a safe, healthy holiday season!
Sincerely,
Your Friends at Washington Business Group
Washington Business Group Held Annual Thanksgiving Meal Giveaway.
On Wednesday, November 23, 2016, Washington Business Group hosted its annual Thanksgiving Meal Giveaway in Ward Eight Washington, D.C. This drive was a time for the people living in the Ward to receive a free Thanksgiving meal put together by the generous Ward Eight businesses. The meal consisted of Mac and Cheese, Mashed Potatoes, Dinner Roll, Fried Chicken, a Cookie, and Drink. In the spirit of giving, Washington Business Group created and gave away more than 110 meals to the Ward Eight community in the presence of Ward Eight Council Member Honorable Trayon White.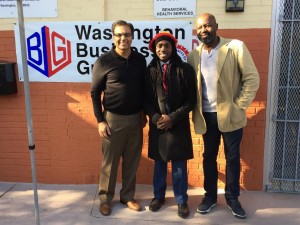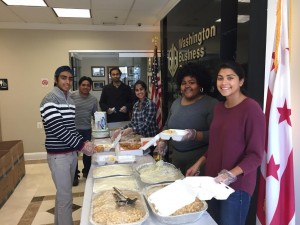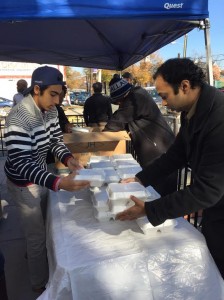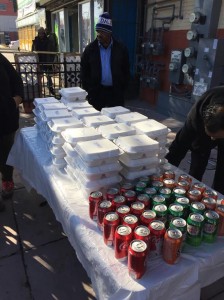 WBG recently completed the next phase of Construction Management for the US Court System.

WHEELER RENAISSANCE receives full support from DC Zoning Commission!
Washington Business Group's latest project, the "Wheeler Renaissance" recently received full support from the DC Zoning Commission with a 5-0 vote to approve its PUD application. This signature project which will help revitalize an underserved part of the city is an 85 unit mixed use development located in Ward 8 Washington DC. This development project will incorporate existing and additional retail with 85 100% affordable family friendly residential units. Visit this site again for additional details and updates on this exciting new project.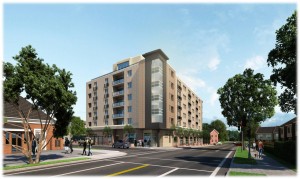 WBG CEO Named to Board of DC Chamber
WBG President and CEO Mr. Dinesh Sharma was recently named to the Board of Directors for the DC Chamber of Commerce. As a long standing active member with a firm belief in its mission and principles, Mr. Sharma will be a strong advocate in creating a better environment for those that work, play, and do business in the District of Columbia.
***Spring Cleanup***
The first community cleanup day of the year took place on Friday May 3rd. With low wind and temps in the low 70's we couldn't have asked for a more picture perfect day to be outside beautifying the neighborhood!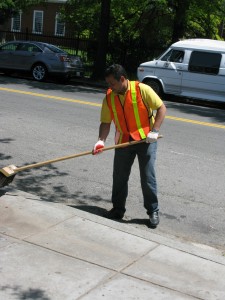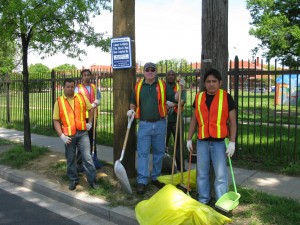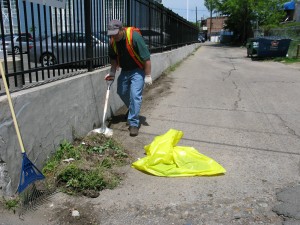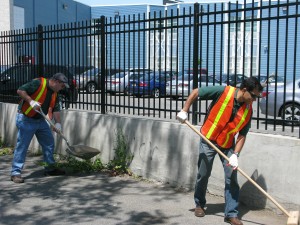 WBG proudly Adopts-A-Block
In support of the of the Mayors Clean City Initiative and in keeping with our commitment to the community and pride in our neighborhood, Washington Business Group is pleased to announce that our application to "Adopt a Block" has been accepted! Plans for the first of four yearly community clean up days are now under way! Please check back for further updates.  For additional information on the program click Adopt-A-Block .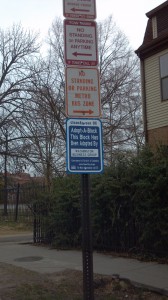 WBG sponsors "Thanksgiving on MLK"
On Tuesday November 20th team members from Washington Business Group's head office began Thanksgiving a little early. All took part in preparing and serving more than 175 meals to our friends and neighbors on Martin Luther King Jr. Ave in DC's Ward 8 community.  A little giving goes a long way in helping to capture the Holiday Spirit!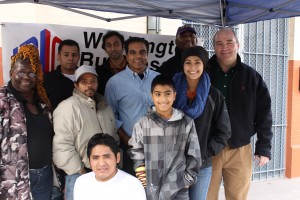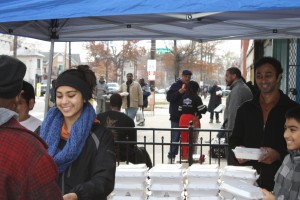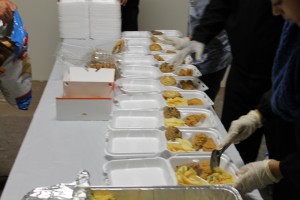 WBG spends a "Day at the Beach" with DC's Children of Mine Youth Center
On Thursday August 16th Washington Business Group sponsored a day at the beach for DC'S Children of Mine Youth Center. Mrs Hannah Hawkins, Founder of Children of Mine along with several of her volunteers and about 25 children spent an absolutely picture perfect mid 80 degree day with low humidity at Sandy Point State Park in Md. A fun day was had by all!!! A special thanks goes out to the girls from Girl Scout Troop 3096 for helping prepare the lunches and for making the day a fun and safe one for all!
The Children of Mine Youth Center, Inc. is a 501(c)(3) volunteer 
based after school program dedicated to providing a clean safe haven 
and loving environment for all youth across the Washington, DC 
Metropolitan area. From 2:30pm – 7:30pm, four days a week, the 
Center provides the children with clothes, food, tutoring, counseling, 
workshops, make frequent trips to a local church farm, and take part in 
field trips to Washington, DC's cultural attractions.

The current enrollment of children is in excess of 100. The ages range 
from 4 yrs. to 18 yrs. with grade levels reflecting the variance of ages 
from kindergartners to twelfth graders and college. The Center is 
dedicated and committed to enhancing the lives of the children through 
love, security, education, and effective communication.

In addition, on every third Saturday of the month Mrs. Hawkins 
extends her services to the homeless by providing them with hot 
meals, clothing, as well as hair cuts. More info can be found at http://childrenofminedc.org/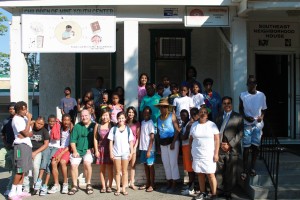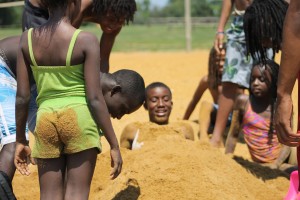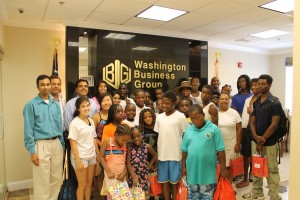 WBG welcomes Mr. Ken Jones as Senior Project Manager
Washington Business Group proudly welcomes Mr. Ken Jones to the Washington Business Group as Senior Project Manager. Ken is a decisive and results focused construction professional with over 14 years of project management experience in the construction industry. Disciplined in contract negotiations and construction principles, Ken ensures that every project is completed on time, within budget, and to the highest level of quality. With federal government. and private sector project experience in the areas of healthcare/medical, R&D, design/build, and K-12/higher education and projects totaling more than $300 million dollars, Ken is sure to be a great asset to WBG, and more importantly to our clients.
WBG Proudly celebrates 13 successful years.
On Thursday May 17th,  WBG was joined by friends, colleagues, service providers, and community leaders in celebrating WBG's 13 successful years. Between the great food, good music, and stimulating conversation, a wonderful time was had by all. WBG is looking forward to providing continued quality services as we head into the "teenage "years.
Space Shuttle Discovery pays WBG a visit.
On its final voyage the  Space Shuttle Discovery passed by WBG's Head office in Southeast D.C. The photos below were taken from the WBG rooftop. Between the sight and the sound it was quite the thrilling experience!
WBG's President and CEO Recognized as Top Minority Business Leader
Congratulations to WBG's President and CEO Dinesh Sharma for being recognized by the Washington Business Journal as one of the D.C. regions most prominent and influential minority business leaders for 2012! The Fifth Annual Minority Business Leader Awards program was held on Friday, March 16, 2012 at The Capital Hilton Hotel.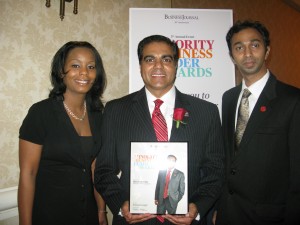 WBG Awarded new GSA PES Schedule contract
Washington Business Group is pleased to announce that we were recently awarded a GSA Professional Engineering Services (PES) contract for Construction Management Services SIN 871-7 and 871-7RC. Government Agencies can now seamlessly order WBG Construction Management Services via our schedule contract GS-10F-0024Y. Please contact WBG for any additional information or for assistance in ordering this or any other WBG service.